MoCheck
- REQUIRES
ANDROID,iOS7, Windows Mobile
What is MoCheck?
It's never been easier to create a vehicle condition report or a rental agreement fit specifically for your needs.  Our reports are easy to configure so that you can include information that's important to you in a fully detailed report, or you can do a quick report with only pictures and notes.  Mocheck is fast and intuitive.
MoCheck is perfect for…
PCO Hire Companies
Multiuser High Volume LCV operations
Vehicle leasing and rental companies
Vehicle transport and storage companies
Motor dealers
Fleet management
Valet & repair companies
Classic cars
…in fact, anyone who needs to document a vehicle rental agreement, or to monitor or record damage, wear & tear or general condition of vehicles regularly.

Check out the great features that MoCheck offers you:
Mocheck offers a variety of pricing packages designed to fit your own volume and functionality requirements  – details here
List of functions that can be controlled via management Dashboard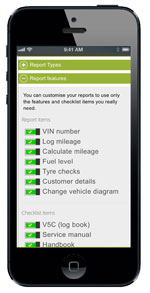 DVLA look up servicevs.manual data entry, or both.
Detailed damage report or quick walk around report, or both.
Report type – inbound, outbound, pick-up, drop-off etc
Checklist items – on or off:
Vin Number
Mileage
Calculate mileage
Fuel level
Tyre check
Customers details
Vehicle diagrams shown
V5C
Service Manual present
Manuals present
No of keys
Tool/Jack present
Sat Nav present
Sat Nav data card present
Locking wheel nut present
Refuelling needed
Smoking odour
Returned on time/late
Customer's signature required, or not.
Inspector's Comments
Sign-off declaration text and Ts and Cs – standard or customised.