MoCheck - The Vehicle Inspection & Rental Agreement Tool
MoCheck is an easy to use vehicle inspection and rental agreement tool that makes it easy to complete detailed, professional vehicle condition reports and rental agreements using any smart phone or tablet device.
It's ideal for vehicle leasing and rental companies, motor dealers, vehicle logistics and transport companies, fleet management etc
Our simple, intuitive design allows for rapid input of any wear or damage to a vehicle and easy online rental agreements, backed up with photographs which are time and date stamped for additional security.
Once the report or rental agreement is complete and signed off it is uploaded to your account in the cloud, and can then be viewed on your desktop computer, and downloaded as a PDF for printing or emailing to colleagues and customers.
New feature added!

MoCheck now allows you to generate Rental Agreements directly on your phone or tablet.
You can now create signed Rental Agreements directly on your phone which are then attached to your inspection reports. All documents are in PDF format, all in one place, ready to send and store.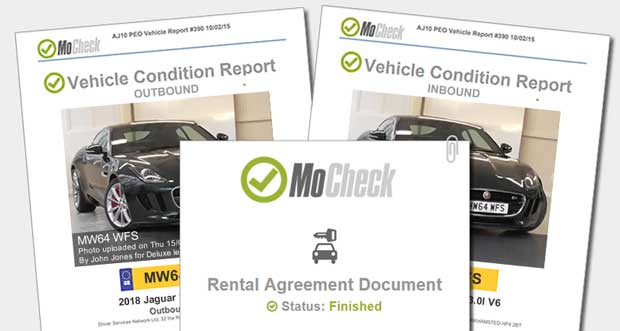 MoCheck is:
Flexible
Fast
Secure
Simple to use
MoCheck will save you:
Time spent completing reports
Time spent on administration
Time spent on management
A whole load of paper
Watch the video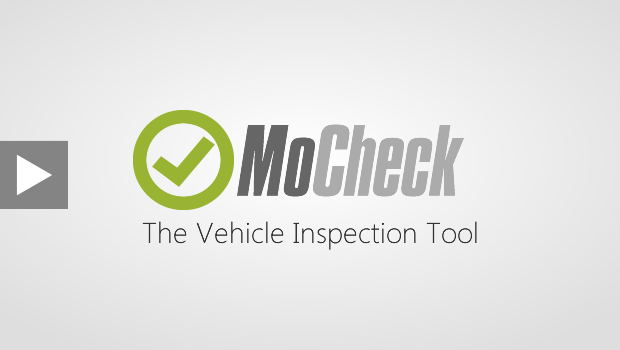 It's quick...
No more entering vehicle data by hand. MoCheck uses up-to-date DVLA vehicle data. Just type in the vehicle reg and we'll grab the vehicle's info from DVLA, and set up a new report ready to be completed by you, or one of your named users.
...and easy
MoCheck has been designed with a clear and simple interface, to make recording any damage or wear and tear to a vehicle fast and intuitive. Once you have created your account you will have access to a number of video tutorials to help you get started.
For your security and peace of mind, MoCheck reports give you hard evidence of a vehicle's condition at any point in time. Protect your valuable assets and avoid potential disputes.
In a hurry? Our walkaround report option offers an even faster way to log damage with your mobile phone - see how quick and easy it is to do a walkaround vehicle condition report.
...and you can try it FREE!
We want to let you try out our service first — find out about our special welcome offer which we're giving to all new customers.